These multi-generation Christmas traditions glow. 
by Rick Romano
There are Christmas traditions – then there are Christmas traditions that endure.
That is so true for two area families experiencing both sides of the magical joy of Santa Claus. On one side, the Brandt family in Wauwatosa has been hosting a visit from Santa for children, grandchildren and now great grandchildren for about a half century.
On the other side, Shane Linskey has helped fulfill that tradition for more than a decade, while extending his own family's history of providing Santa duties for more than four decades throughout the Milwaukee area.
The two legacies intersected about 12 years ago when Janey Brandt was searching for a new Santa. While she was most successful in hiring Santas up to that time, the last one "didn't cut it" after just one visit because he reeked of smoke and his beard was dirty.
"I asked around and found someone who came highly recommended," Janey said. "But he told me he wasn't available, but that his son could do it."
That son was Shane Linskey at that time a newly minted Santa who had learned his craft at the knee of his parents who were Santa and Mrs. Claus veterans.
It was a perfect match.
"He just looks so much like Santa with his white beard. The big belt and buckle and he a big voice," Janey said. "He's great with the kids and the adults and he has been here for so many years in a row now and he knows everyone by name."
Setting the stage
The Brandts make sure that Santa has a grand entrance and that he has something for everyone.
"We make sure he has a special parking place, not too close because we don't want anyone to see him pull up," Janey said. "Some of those children ask a lot of questions."
A sack full of marked presents – which has graduated from burlap to more formal Santa-esque style — is stored in an attached garage so that when Santa arrives at the front door jingling bells and ready to entertain, he has goodies for all.
By the time Santa arrives around 8 or 8:30 p.m. after church and a meal, Janey said the children are very anxious – enough to keep them awake.
Santa isn't the only annual tradition in the Brandt household. Janey and Rufus laugh about the fact that the small spruce they planted when they first moved into their Circle Ave. home now towers over the house. No longer able to properly light it for the season, they say they go all out decorating the home's interior with décor from past seasons, some dating back to their own parents. 
Building on tradition
Janey recalls going to her grandmother's home on Christmas Day. Rufus reminisces about his father putting Christmas presents on layaway and proudly notes Janey's love of making a variety of holiday dishes. Janey gives credit to family members who help.
Handing the tradition down to family is important. Granddaughter Alison Latus revisits the tradition through the eyes of her three young daughters – Lily, 9; Emily, 7 and Elena, 3.
"This is the tradition I remember growing up," Latus said. "Even as an adult now there is a sense of excitement when Santa comes to the door. When Santa Shane comes to the door, you know he has a real beard and longer white hair and it feels special for everyone."
Even bringing in others, like her husband, Jared, into the tradition is worth having to split time between visiting in laws, a regular challenge for many families.
"My husband is into this," she said. "He fully embraces Christmas Eve."
Santa earned his stripes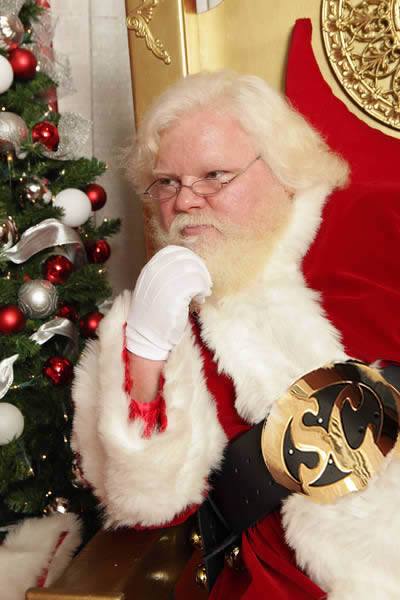 Also embracing this special time is the Santa who has helped extend the Brandt Christmas as well as festivities of other families. Santa Shane was groomed properly by his parents, Marty and Jackie Linskey.
"I was an elf to them during those years," Shane said, "I remember driving them to gigs and driving a convertible they rode in for the Burlington Christmas parades. We always got a
red one from a local dealer. Some of those rides were very cold."
Shane took over after his mother passed and his dad retired from Santa duties. While he has fulfilled some volunteer gigs that his parents worked, he also has developed his Santa as a business venture.
His Santa experience, he said, has had a blend of sadness like an instance where he visited the family of a little girl with terminal cancer so that they could have one last beautifully memorable Christmas with her, and the joy of families like that of the Brandts.
"It's very gratifying to see people happy," he said.
Santa Shane knows that life goes on, that his tradition my look different in the future. That's why he is happy that, with two sons, a third generation may come to pass.
"I don't know for sure that will happen," he said. "I'd like to see that happen."
Marty Linskey, the Santa who inspired Shane, may have said it best when he considered the possibility.
"There's more to it than helping others," he said. "You get an education out of it."
To connect with Santa Shane, go to www.santasready.com. 
Build Your Own Tradition
Fortunately, there are a number of online sources for those who wish to welcome a local Santa or to transform themselves into a Santa who will help make Christmas a little more special.
At www.bash.com, for example, advice for hiring a Santa includes:
Check for any formal available background, read client reviews and talk directly to area residents who have used the performer. Also, look at the types of bookings to see if he has the required experience.
Ask a lot of questions about how Santa works, such as what does he wear, does he come with a helper or Mrs. Claus, does he sing, take photos and is willing to hand out gifts?
Book early; The best Santas are the busiest.

At www.parade.com, the advice to those who want to be Santa includes:
Research Santa lore so you know the meaning behind it all.
Learn to sing and refine your "Ho, ho, ho!!
Be prepared to answer tough questions like "How do you get around the world in 24 hours?"
Get versed in the latest toys.
By the way, there are Santa schools to find online, including the Charles W. Howard School established in 1937 in Michigan.