By: Marianne Szymanski, President and Founder of Toy Tips.
Dreaming of a vacay in LA? I'm a frequent traveler to Los Angeles and am sharing my secrets. Quick "getaway" trips can be cost-effective if you know where to stay and play.
Getting there:
There are direct flights from Milwaukee-Los Angeles, Milwaukee-Long Beach (a 20 minute drive from LAX airport), Chicago Midway to Los Angeles, Chicago Midway to Long Beach and Chicago-Los Angeles
You can take the bus from Mitchell International Airport direct to O'Hare or park at an off-site parking structure at O'Hare and leave your car (for about $10.95 a day… use a Groupon and its a few dollars cheaper!)  I use Wally Park.
When booking a ticket, I always start with Google flights and look at the prices for one way tickets. Sometimes that is the best way to combine times that work for your schedule. From there, I start searching all travel sites until I find a price under $300 round trip. And, I most ALWAYS find a price under $300 except for the busiest times during Thanksgiving, Christmas/New Years and Spring Break
My best find was a $64 one way ticket from O'Hare to LA on Virgin America last month!  Always click the button that shows the entire month on the airline sites that allow that because they usually publish the daily prices. If you are flexible, you most will likely find a  deal. Other airports near to Los Angeles are Burbank and Ontario.
Also, if you purchase an airline ticket, you have 24 hours to change your mind and get reimbursed (sometimes it takes a few days) but this gives you peace of mind for planning. Just set your alarm clock so you don't miss the deadline and check with your airline before you book to be sure. Rules can change.
Places and Spaces:
There and many neighborhoods, tourist attractions and places to go throughout the Los Angeles area. For a short trip, I suggest to "theme" your trip and pick a neighborhood you would really like to get to know. This way, you can really spend some time instead of driving around.
The traffic can be crazy depending on time of day, weather, events and for other random reasons. It 's much easier to stay where you plan to spend most of your time.
There are a few "themed" trips I can suggest that will leave you with an imprint that you really had the LA experience.
For Foodies
Go on a weekend and visit the Beverly Hills Farmers Market. Rain or Shine, it's always on Sunday.  Make sure to visit the Pomegranate Juice Lady. She has been there for over 15 years. It's delicious.
It's located in the heart of BH near the Library and walking distance from great shopping, upscale hotels and the famous Rodeo Drive. You can make an entire day of this on a Sunday afternoon.
My favorites of LA's  best bites are The Farm on Beverly Drive, Mastro Steakhouse, The Stinking Rose (A Garlic Restaurant), Il Pastaio, Crustacean and  The Cheese Store.
A few don't miss-stops on your stroll are these finds on Santa Monica Boulevard.
• Sprinkle Cupcakes ATM (There is also one on the campus of USC- The University of Southern California)
• Sugarfina Candy Shop
• Diane Kron Chocolates
The LA Tourist 
If you strictly want to experience a "Hollywood" tour,  then visit Hollywood Boulevard (the famous Hollywood Walk of Fame), hike to the the Hollywood Sign, visit the Observatory in Griffith Park, take in a concert at The Hollywood Bowl, Chinese Theater,  lunch on the Sunset Strip and take a bus tour in the Hollywood Hills.
The W Hollywood Hotel is convenient and has valet parking but if you are looking for a more funky spot to stay, consider The Magic Castle, The Hollywood Roosevelt  (there is a lot of Hollywood history there) or Chateau Marmont.
Old Town Pasadena 
This is usually just referred to as "Old Town "and is a beautiful drive from downtown Los Angeles. With mountain views and the famous concrete Bridge along Colorado Street, this area is quaint and cute. There is great shopping and dining and sports-enthusiasts always appreciate a visit to the Rose Bowl.
A few hours at the Norton Art Museum, one of the world's largest private art collections, will offer culture. You don't want to miss a stroll through the Sculpture Garden.  Families with children of all ages are encouraged to visit and there is free admission for anyone under age 18.
If you might like a modern and hip retro style "motel", the ASTRO is a  Funky place to stay in an off-the-path neighborhood  just about 10 minutes from Old Town.
Things not to miss while in Pasadena: Tea at the Langham Hotel, a drive-thru burger at the In'N' Out and a visit to the original Trader Joe's.
The Studio Tours
If you are visiting Los Angeles just to see the studios, then stay in the Burbank/Toluca Lake area.  You can't miss the Wizarding World of Harry Potter ™ at Universal Studios Hollywood.
My favorite "unique boutique"  hotel in this area is  The Tangerine in Toluca Lake. It's smack-dab in close proximity to great restaurants  and the Warner Brothers lot. Book a studio tour just to see the picture cars and visit Central Perk Cafe so you can snap a selfie sitting on the couch so often seen on the set of "Friends."
Downtown Burbank hosts great shopping, the new IKEA store, fun restaurants and a fabulous Verdugo Mountain view. If you are looking for a hotel with a kitchenette for more of an "at home" feel, The Extended Stay near the Burbank Airport is convenient.
Additional Must-do's: 
Take a dance class at Millennium Dance Studio in North Hollywood, stroll Universal City Walk at night, try the HUGE cotton candy dessert at Saddle Ranch, take in a show at the Falcon Theater in Toluca Lake, try a burger at the oldest Big Boy's and attend their famous car show on a Friday night.
The Beach
You can't miss a good beach week!  It's easiest to fly into Long Beach (in my opinion) because the airport is small and easy to get in and out of and the rental cars are walking distance from baggage claim.
I would suggest you first research and pick a beach community that interests you of where you want to stay. Then during the days of your trip, try to visit all of them from Malibu to the South Bay during you trip. You will find a different vibe in each town.
Rent a car and drive the Pacific Coast Highway. It's worth it!  Visit the Queen Mary in Long Beach and take surfing lessons in Seal Beach. From Santa Monica to Venice, take advantage of the ocean air and take a long walk on the Strand or rent rollerblades or a bike. You can continue toward Manhattan Beach but that will become a long day.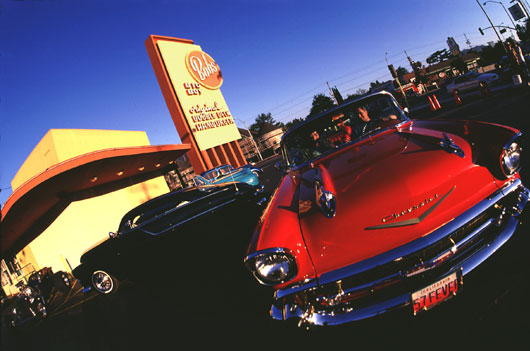 Don't forget to take a ride on the Ferris Wheel on the famous Santa Monica Pier, play volleyball in Hermosa, and build an evening fire at Dockweiler Beach (get there early in the morning to reserve a fire pit). Shopping on Admiralty Way is a must in Venice and go to LeLabo Fragrances and smell the signature scent. Better yet— buy a bottle. It's an LA best-kept secret!
If you are looking to stay a little farther away, you can venture out to Orange County. The Hyatt at Huntington Beach is gorgeous and a fabulous place a for romantic weekend. If staying right on Ocean Drive is more your fancy, you will have a view of  the very busy and tourist Santa Monica Pier and will be walking distance to the Third Street Promenade.
When visiting anywhere in Los Angeles, depending on your price point, number of travelers and style of stay, I check out hotels.com for great rates.  I always seem to find one. But, checking all travel sites is best if you have the time.
No matter what you plan, a family trip to Los Angeles combines entertainment, culture, the beauty of mountains,  the Pacific Ocean and you also usually bring a suntan home with you.
Make great memories!
-Marianne