By Rick Romanno
A new community effort promises to bloom perennially
Public art has blossomed in Hart Park.
Three metal sculptures of distinct shapes and themes now line the paved walkway along a portion of 19-acre Hart Park. Local leaders hope the first year of The Hartwork Project – an annual installation with new works – will not only be an aesthetic feast for the mind's eye but also attract more people to enjoy all of what the city has to offer.
"I am very excited about this," said Mayor Kathy Ehley. "I have wanted to do public art around the city for years and I started thinking about it when I was BID director."
The public art initiative came out of the city's recently formed Tourism Commission. Commission Chair Stephanie Portrey general manager of the Residence Inn by Marriott Milwaukee West said the project is part of a citywide effort to support the arts, including sponsorship of performing arts at Mayfair Mall.
"The value of the project is the community involvement as well as attracting people here," Portrey said. She noted 11 artists originally responded to the call for entries and after four finalists were named and posted for consideration 2300 public votes were recorded on line and in person at the public library and at Hart Park Senior Center.
"It's a great opportunity for the public to experience these works of art and also get to know the city" Portrey said.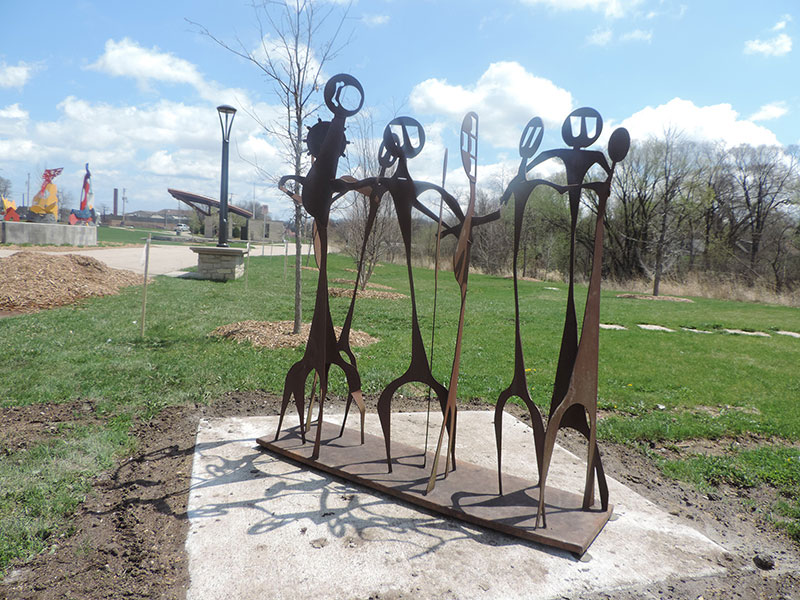 The Artists and Their Work
The selected artists also like the exposure. While each has titled their work, the all said they are open to interpretation but the value to the community is clear.
Trenton Baylor was born in Milwaukee and raised there and in Mequon. Baylor teaches sculpture digital fabrication, woodworking and furniture design at UW-Parkside. His sculptures are featured in local, regional and national exhibitions as well as public and private collections.
His Hartwork piece is entitled "Newly Discovered," is 12-feet high by 8-feet long by 8-feet wide. Bright, color columns reach upward and curve ending in whimsical wheels and fans.
"I hope the viewer enjoys it and is challenged and is able to see all the parts and pieces and consider why it is made the way it is," Baylor said. "I really appreciate it when smaller cities take on exhibitions. It's nice to see people drawn there to enjoy the art and appreciate what these cities have to offer in the way of shopping and restaurants."
Regarding the value public art, Baylor noted, "It is important because unfortunately people don't consider how their life is impacted by art. We pick homes because of their curb appeal, the same for cell phones and other everyday items that we want because of the way they look."
Paul Bobrowicz is a carpenter turned self-taught artist whose 6-acre outdoor gallery in the town of Merton displays what he called relationship based metal sculptures. Some of his work is displayed in public and private collections.
The Bobrowitz piece for Hartwork is entitled "#9 #9 #9," the name inspired by the Beatles composition Revolution 9. He describes the work as "a tall, slender and shapely 64 inches high by 6 inches wide and 16 inches deep."
Bobrowicz said he stared his artwork as a hobby while still working as a carpenter as a way to work through his own relationships and "adjust to being a civil human being."
About public art, Borbrowitz said, "It raises the whole caliber of the community. This has been going on not only with this type of exhibition but with new designs, for example on retaining walls and overpass bridges on the freeways. It gets the public out of the drudgery of life."
Timothy Jorgenson is an Iowa transplant who has exhibited all over his native state and was part of student public art fabrication team there. He recently moved near Windsor, Wisconsin to pursue a fine arts degree at UW-Madison.
His Hartwork piece is "Cultivate" a 12-foot high metal representation of large seed pods that sits on a four-foot square base.
Though he has his own interpretation, Jorgenson echoed the refrain from his fellow Hartwork participants in saying his figure may mean something different to each person who views it.
"Once they are in public," he said. "They are pretty much open to interpretation." He said he looks forward to getting to know more of Wisconsin through his public art endeavors.
"Public art is really nice because it gets people who are outside of the art world to view it. It's a great way to introduce art to those who don't always go to galleries."
Beyond This Year
Because The Hartwork Project is established as an annual exhibition, Mayor Ehley said the city's future as an artistic attraction is bright.
"This is a great way to provide the community with public art," she said. "so who knows where it will go from here? I'm very hopeful."
A Broader View of Public Art
Americans for the Arts, an organization with offices in Washington, D.C. and New York City, and whose mission is to support a broader exposure, presented a recent paper noting public art's social value. Here is an excerpt:
"Public art is a reflection of its place and time. It acts as a place marker in all human settlements. Public art activities the imagination and encourages people to pay attention and perceive more deeply the environment they occupy. It stimulates learning and thought about art and society about our interconnected lives and about the social sphere as a whole."