Wauwatosa's toy retailers are stocked and ready for the holidays! Whether you are looking for classic fun, heirloom quality toys, or the newest trend, your local stores can match you with the right gift for the young and young-at-heart in your life.
When you shop at local retailers, you can get customized advice, be surprised by new items, and often even try items out of the box. You can develop relationships with store owners and support the employees who live and work in our community.
Read on for some of the toys that we are most excited about this holiday season!
Get Up And Move — Toys that get you active
Stomp Racers – Everyone's heard of stomp rockets, how about using that stomping power to move race cars! This set comes with two customizable cars, stompers, and a jump to send your racers over whatever daredevil trick you set up. Ages 5+.
The Disker Magnetic Dart Board is the perfect aim and throw game for the younger set. Little hands will have no problem launching these magnetic discs right on target. Ages 3+.
Two Bros Bows are a high quality and super safe bow and arrow set with padded arrows that kids LOVE! Ages 6+.
Pogo Sticks are a classic that never bounce out of style. Ages 5+.
The Glow Battle Family Pack engages the whole family in an epic battle with soft swords that glow in the dark. Ages 8+.
Build! Build! Build! — Toys that teach kids to think, plan, and create 
Tegu blocks are irresistible for young and old alike. They are made of sustainably grown wood and powered by magnets, and all blocks are compatible with one another. Spark your kiddo's imagination! Ages 1+. 
MagnaTiles are another popular magnetic building toy that allow kids to build houses, farms, and even cityscapes. Ages 3+. 
Trestle Tracks take marble runs on a new spin by using hollow building cubs and widening tracks to propel the marble through the track. Encourages spatial reasoning, creativity, engineering skills, problem-solving skills. Ages 8+. 
Art-chitect is a realistic design-and-build kit that allows young architects to bring their very own 3-D homes to life. Ages 8+. 
Young engineers will use the novel Spin-Gineer set to safely weld and construct an over-two-foot-long suspension tower bridge or any other structure they dream up. The pieces can be snapped apart and reused for new constructions. Ages 8+. 
The CDX Little Dipper Roller Coaster is a build-your-own mechanical roller coaster using bricks that are compatible with the world's leading building block system. Ages 10+.
Get Crafty — Toys that make beautiful objects
Rainbow Loom is back! Did you know it's been ten years since the Rainbow Loom debuted? It's time to introduce this modern classic to the next generation of crafters! Ages 7+.
The Over the Rainbow Craft Kit has over 300 crafting pieces in its own carrying case, meaning this kit has everything to keep your crafter busy making amazing creations made from fuzzy sticks, straws, pom poms, googly eyes and more! Ages 6+.
Soapstone Pendant Making Kits are almost meditative. Kids file, smooth, and polish Brazilian soapstone to create wearable works of art. Ages 6+.
Proving that you don't need to be a trained artist to make cool art, the iHeart Art Squeegee Art kit uses simple tools and techniques. Simply drip the paint and spread the paint using squeegees and you've made a piece of modern art that is truly unique. Ages 8+.
Mini crafts are on-trend. Use colorful clay to create mini candies and display them on a mini cart with the Klutz Mini Candy Cart. Ages 8+.
Another on-trend mini craft, DIY Miniature House Building Kits are perfect for the advanced crafter and appeal to teens and adults. The details of these kits are incredible and must be seen to be believed. Ages 14+.
Play Games — Games for bringing people together
Looking for a hilarious new party game to liven-up holiday gatherings? Check out the new game Like Herding Cats which combines charades with…cat masks. Trust us: it's really funny. Ages 10+.
Players harness the dark side in Villainous – Star Wars Edition. Choose your Star Wars Villain, control your sector of the galaxy and use the force to rule the dark side! Ages 10+.
Part puzzle, part game, Grizzly Gears contains 80 challenges from easy to expert that will keep your kiddo engaged as they rotate the tree puzzle pieces to guide their character through the forest while avoiding meeting up with Mr. Bear. Ages 7+.
Heap O' Sheep is a hit with the kindergarten set. In this family game, players take turns catapulting sheep into a paddock, trying to be the first player to land all their sheep. Ages 5+.
Tongues Out! is a perfect matching and memory game for your young gamer. Squeeze the pups to reveal the color of their tongue and uncover what color lollipop they licked. Roll the dice and then find the guilty puppy. Ages 4+.
Make Believe — Toys that teach communication and cooperation
Dress-up outfits let kids explore new characters and new worlds. Our favorites are from Creative Education — their durable, washable dress-up outfits will transform your little one into a dinosaur, a fairy, a butterfly, a royal, or any combination that their imagination desires! Ages 3-8.
Have a Batman fan? Let then transform into Batman with the Batman Voice Changing Mask which will have them sounding just like the dark knight! Mask has light up eyes and 15 sounds that add to the cool factor of this toy! Ages 4+.
SpyX Gear – The 6 in 1 Spy Watch and the Night Mission googles are a must for any aspiring 007. Decode secret messages with this futurist watch and see your targets in the dark with hands free googles. Ages 6+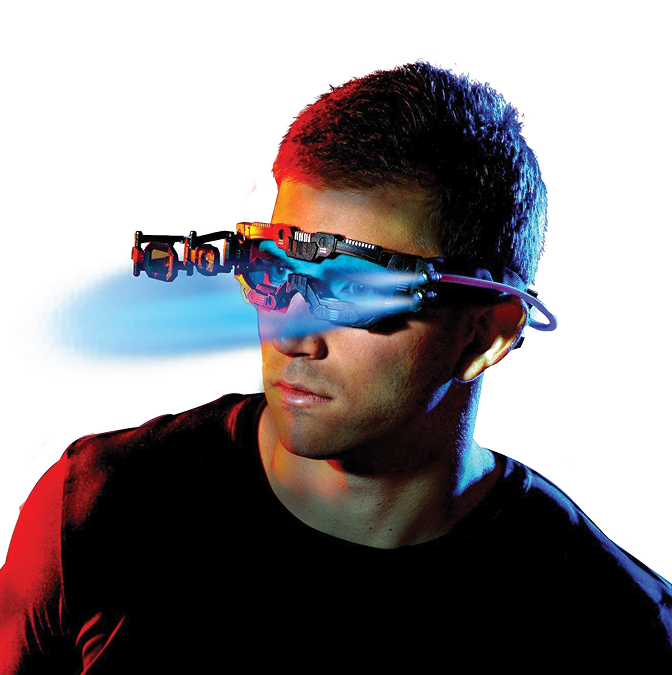 Vehicles – Toys that go vroooooooOOOOM!
When we saw the 3-in-1 Burger Car Playset, we said "what the what?!?" It's a car! It's a burger! It's a kitchen! It's the coolest playset! It includes playfood, cooking utensils, flashing lights and silly sounds. What will your kiddos cook-up with this burger joint on wheels? Ages 3+
If you're looking for a "big wow" car gift, check out the Tracer Racer RC Super Looper Speedway. This light-up RC track car set has a customizable dual raceway with twisting turns and legendary loops! Ages 6+.
A remote-control race car that transforms into a robot? Yes, thank you. The Turbo Twister Morpher RC is 360 degrees of full-on stunt-performing action. Ages 3+.
The Green Toys RV Playset is made for your camping adventures indoors or outdoors. Green Toys are made from recycled plastic and packaged in recyclable cardboard. Ages 2+.
Wauwatosa Toy Retailers 
Barnes & Noble
Board Game Barrister*
Build-A-Bear Workshop*
Meijer
The Lego Store*
Ruckus & Glee*
Target
*sells exclusively toys and/or games