Two Wheel Revolution
BY Chris Haise
From the Milwaukee County Transit System, to the forthcoming downtown street car, public transportation in the Milwaukee area is undergoing a transformation. Adding to the availability of shared resources is Bublr Bikes.
You've seen the ubiquitous baby blue bikes stationed around the city, and more will be available throughout the Metro area as Bublr Bikes moves forward with their mission of improving public transportation.
AMBITIOUS BEGINNINGS
Bublr, a non-profit organization, is an offshoot of the larger non-profit BCycle. BCycle was founded by the Trek Bicycle Corporation and its partners after several successful temporary bike sharing programs at large events, such as the 2008 Democratic National Convention.
The company's first permanent solar powered bike sharing station was launched in Denver in 2010, and has since expanded to 47 cities, including our Milwaukee area system. While some of the different systems operate under alternative names, such as Bublr here in Tosa, they all operate under the BCycle umbrella. The bikes used in the BCycle ride sharing programs were specifically designed by Trek to suit the needs of riders and to promote the efficacy of the program. From the solid, durable frame, to the rider friendly 3-speed system and the puncture proof tires, the bikes allow for a safe, simple and sustainable system. The sturdy design ensures availability and usability across the bike share network.
REDEFINING PUBLIC TRANSIT
Bublr is part of a larger, nationwide movement towards sustainable transit. Programs such as Zipcar and car2go, two of the largest car sharing networks in the world, allow users to rent a car through their membership and pay as they go.
While it is a form of car rental, car sharing allows people to rent for short periods of time, often by the hour, and is often utilized by those not in constant need of a vehicle. Car rental companies have taken notice, with entities like Enterprise rolling out their own version of car sharing.
Car sharing is similar to bike sharing programs, and car sharing allows a wider range of use and added practicality of navigating a less centralized metro area.
Car sharing does not eliminate environmental concerns the way bike sharing does and will, but its impact on public transit and the way people interact with cities is no less astonishing. According to The Economist, an effective car sharing system can potentially use one car to replace up to 15 (fifteen!) privately owned vehicles. The benefits of this are as obvious as they are important.
Thousands of cities worldwide have car sharing options, including Milwaukee, and millions of individuals take advantage of the benefits provided by car sharing membership.
The rise in proclivity of car sharing has mirrored the exponential growth of bike sharing programs, such as Bublr. In 2017, the number of shared bikes in the U.S. more than doubled. Research done by the American Public Transportation Association into shared mobility shows that the more people use shared modes, the more likely they are to use public transit, own fewer cars, and spend less on transportation overall.
Bublr and BCycle agree that shared transit has a crucial role in shaping modern cities. BCycle proclaims to be "revolutionizing the way people use public transportation," while still aiming to "complement and improve existing transportation infrastructure."
While the evolution of shared mobility is proving to have a large effect on individual people, the peripheral benefits are no less impactful. Because of the added convenience and availability, programs like Bublr Bikes are actively changing the way we interact with cities.
According to Bublr, our city has become more vibrant with the addition of bike sharing. It is not difficult to see the local business impact, as individuals are encouraged to explore the area in ways they might not have elsewise. Easy and accessible transportation, like Bublr offers, also creates more organic opportunities for new customers to discover local gems.
USING BUBLR
There are many simple and inexpensive ways to enjoy Bublr Bikes and the entire BCycle system. There are options for single rides, pay-as-you-go, annual passes, and even passes integrated with the MCTS system, cleverly called "Buslr."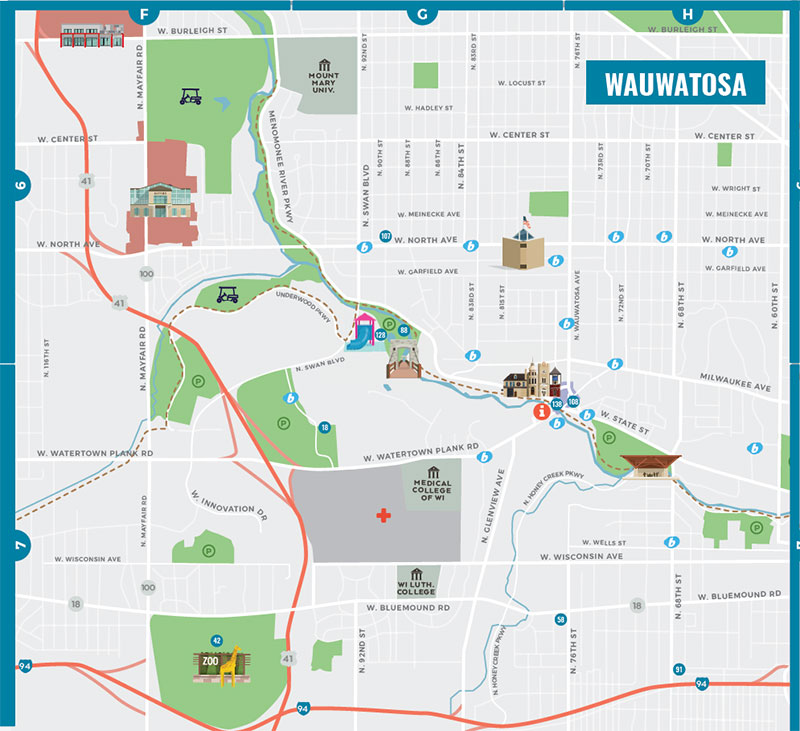 Many of the passes are transferable to any of the other 46 BCycle systems across the country, allowing for convenient and reliable transportation options as you travel, as well as a seamless user experience.
Whatever options you choose, the solar powered docking stations are simple and easy to use and having a Bublr pass only adds to the convenience.
Safety, as always, is critical to the success of Bublr and other bike sharing initiatives. As an adult it can be important to refresh on basic bicycle safety, such as basic hand signals.
Awareness is crucial as well, given that bike sharing programs necessarily lend themselves to more urban environments, which pose their own sets of risks. Watching for cars, avoiding hazards in the road, and general alertness will go a long way to ensuring a safe bike sharing experience.
Bublr is using a simple, well executed idea to help transform public transit and the way we get around. So what are you waiting for? As Bublr says, "All of Milwaukee is a quick ride away."